Meet three of Australia's most successful refugees and see what they have contributed to our country
Refugees, asylum seekers and immigrants have contributed to the growth and evolution of modern Australia.
Meet three of Australia's most successful refugees who have achieved success in their fields and created positive change in Australia.
Najeeba Wazefadost
Najeeba was born in Afghanistan and was smuggled out of the country when she was only 12 years old.
Using fake passports Najeeba and her family travelled to Indonesia where her little brother was born.  With her brother being only days old, the family set sail on the dangerous voyage to Australia.
The boat was intercepted by the Australian Navy and Najeeba and her family were placed in Curtin Detention Centre in Darwin. After two months the family was granted protection visas.
Najeeba began education in Australia and states that "In Afghanistan I never would have had the opportunity to have access to education or employment".
She now lives in Western Sydney and heads the Hazara Women's Association, is an ambassador for Amnesty International and Welcome to Australia and was a finalist of the Young Human Rights Medal Award.
Additionally, Najeeba has a Bachelor of Medical Science and is now studying a second degree.
Najeeba continues to spread her message of the necessity to create conversations and relationships among refugees and members of the Australian public.
She says in order to prevent racism and discrimination it is vital that we can hear each other's pain so we can understand and accept one another.
Aliir, Aliir
Allir arrived in Australia when he was only nine years old. Before this, his family fled the civil war in Sudan and he grew up in refugee camps in Kenya.
As a young boy, Allir found joy in kicking battered, old soccer balls around the camps.
After five years of being in Australia, Allir tried his hand at Aussie Rules football. He showed potential and joined the Brisbane club, the Aspley Hornets.
In 2010, Allir got his first real break when he was selected for the World XVIII team to compete at the under 16 national championships.
Allir developed a friendship with another Sudanese player at the championships.
After discussions, the two worked out they were actually cousins and that Allir's sister had been living in Perth. After an emotional family reunion, Allir remained in Brisbane and began playing for the Hornets.
The Swans then snapped him up and Allir is now the second ever Sudanese refugee to play AFL football. Through AFL's highly successful multicultural program, Allir inspires young multicultural children to follow their dreams.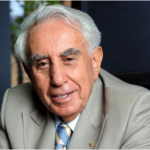 Harry Triguboff
Born in China to Russian parents, Harry arrived in Australia in 1947 after fleeing Lenin's regime in northern China.
After working as a milkman, running a taxi fleet and then turning his hand to selling real estate, his friend advised him he should develop a block of flats in Sydney's Inner West
Little did Harry know at the time, this small development would lead him on a journey to become Australia's sixth wealthiest person, with an estimated fortune of 6 billion. Harry is now a residential property developer and is the founder of Meriton Apartments.
Harry is also a philanthropist who is well known for his generosity in supporting numerous charities, educational, medical and health organisations.
Some of which include; the Heart Research Institute, Westmead Children's Hospital and the Sydney National Cancer Foundation.
It is important that we remember the positive impacts and contributions that many refugees and asylum seekers have made to our country and recognise their continuous valuable input that will assist in fostering a more welcoming and cohesive nation for tomorrow.